The Constructors Notebook
The Constructors Notebook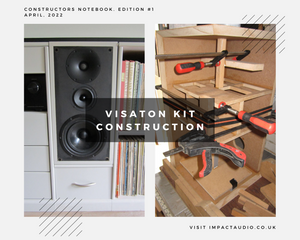 .So how hard is it to build a pair of speakers from a collection of components and a sheet of mdf? You could in turn ask how easy is it? It is largely a question of confidence in your own ability to read and interpret a set of drawings and then have the practical skills to cut the wood, stick it together and solder a few electrical components. However there is help at hand if you need it!
Visaton kits all come with cutting lists, assembled crossovers and clear instructions, along with all the components you will need to build a pair of speakers. Also our colleagues at
Wilmslow Audio
offer flat pack cabinets and even fully assembled and finished cabinets if required.
DIY Cabient Building
Cabinet building can be daunting for someone with little or no woodworking experience. To build from scratch you are going to need a range of tools to carry out the work properly. If you intend to cut the panels to size from a sheet of mdf, you will need a good saw and preferably a bench saw. This will enable you to make clean, accurate cuts which you will need if the boxes are to assemble properly. Alternatively, if your local timber merchant offers a cutting service you may be able to get all the cutting done by them, either free or for a small charge. Link to example Table Saw.
Assembling and gluing a cabinet is done best by using clamps to secure the panels in position while the glue is setting. Customer A.B. used a combination of clamps when putting together his Nimrod speaker cabinets. These held the panels securely in the correct position until the glue had fully cured.
Images show the cabinet building process of customer A.B's Nimrod speaker kit using clamps to secure panels as glue sets.
'
The Advantages of Kits
By making the speakers yourself you are eliminating the cost of manufacture. There is also the substantial contribution to marketing and distribution which is attached to high street branded products.
A practical advantage is that you can build a speaker which is unique to you. It is possible to tweak a standard kit design, for example, by changing a crossover component to roll off bass response to suit a room acoustic or personal preference. You can also veneer or paint the cabinets in a colour or wood finish that suits you.
Todays branded loudspeakers are undoubtedly well made and well finished. The appearance of such speakers is very important if they are to have showroom appeal. They are, however, often built to a price, and once manufacturing, marketing and cabinet costs have been taken into account, there is less to be spent on the speaker components themslves.
The finished product of customer A.B's own design for the Nimrod kit.
If you have any tips or tricks that have helped you with the construction of you own speaker kits we would love to hear about them. Please leave a comment below or email info@impactaudio.co.uk.