NEW - Waterproof Exciter from Visaton EX 60 XWP - 8 Ohm
NEW - Waterproof Exciter from Visaton EX 60 XWP - 8 Ohm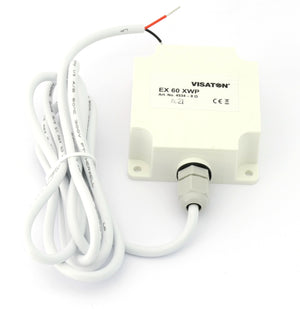 Visaton have recently launched a new waterproof exciter, the EX 60 XWP - 8 Ohm which will be the first of its type to join their electrodynamical exciter range.
The
EX 60 XWP - 8 Ohm
is built with a sturdy waterproof plastic enclosure and is e
lectrically controlled via a 1.5 m long supply cable.
It it similar to other exciters in that it can be attached to a mounting plate or surface through both screwing, gluing or using the purpose-made adhesive
PAD
. Giving the
EX 60 XWP
the versatility of any other exciter. 
One of the key benefits of exciter installation is its 'invisible' nature, with the ability to place the exciter behind the mounting surface and out of sight. This is ideal when an exciter is used in public spaces or outdoors, as it is protected against issues such as vandalism or varying weather conditions. It also makes the exciter ideal for locations where water or splashing can be an issue, such as kitchens or bathrooms. However, since the majority of exciters are not fully sealed, if water were to get behind a surface and have direct contact with an exciter, it could damage the integrity of the product.
With the
EX 60 XWP
, the exciter is built with a fully sealed plastic enclosure, giving it an 
IP Rating of 65 and 67.
This means the exciter is dust proof, protected against heavy waterjet, as well as temporary dipping underwater. Therefore water splashed as a heavy jet from any direction, as well water submersion for a short time, will have no harmful effects on the exciter and its functionality. This makes the
EX 60 XWP
ideal for outdoor applications where exposure to water is likely, and allows the exciter to be attached to external surfaces if desired.
Adhesive PADs for mounting are also available here, which are specifically designed for the EX 60 XWP. 
Technical Data for EX 60 XWP
| | |
| --- | --- |
| Power | 25 W |
| Impendance  | 8 Ohm |
| Voice Coil Diameter | 32.5 mm |
| Length of Cable | 150 cm |
| Cable Diameter | 5.2 mm |
| Colour  | White |
| Net Weight  | 0.224 kg |
If you would like to know more about exciter technology, or the current uses of exciters, please read our previous blog post, The Basics of Exciter Technology. You can also get in touch with us by leaving a comment below or emailing info@impactaudio.co.uk.
.