The Basics of Exciter Technology
The Basics of Exciter Technology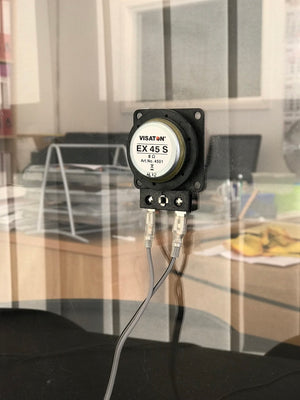 What is an exciter?
Quite simply, an sound exciter is a loudspeaker without the membrane. It mainly consists of three components: the oscillating mass, the contact pins to connect to the amplifier, and the mounting plate which is attached to the surface being excited.
1. Oscillating mass
2. Contact pins
3. Mounting Plate
When a signal is transmitted to the contact pins, the oscillating mass starts to vibrate with the frequency of the applied signal. This vibration or oscillation is transmitted to the mounting plate and from there to the surface the plate is mounted to, thus emitting sound from the surface.
Sound exciters or conventional loudspeakers?
Unlike conventional loudspeakers which have a very consistent, defined specification, there are various factors which affect how an exciter will react in an individual application. As exciters work by vibrating against the surface that they are mounted to, it is inevitable that the surfaces themselves affect the end result, causing variation in sound reproduction.
Although it is difficult to get exact specifications from an exciter, there are still many advantages to using them. Exciter technology provides a cost effective way to create sound reproduction in various different locations. Due to its versatile nature, exciters can be mounted onto a variety of different surfaces and still produce good quality sound. Exciters are extremely beneficial for use in areas where issues such as water, cleaning agents, weather, lack of space, vandalism or visibility are present. Public transport, for example, is an ideal location for exciters to be used, as the risk of the exciter being damaged in much lower than that of a conventional loudspeaker.
Other areas where exciters are being used successfully include;
Home cinemas where visibility is an issue
Cash machines
Retail product displays
School and office white boards
Outdoors where weather is an issue
Kitchens and bathrooms where water is present 
The ideal mounting surface?
As you can imagine the quality of the reproduced sound is strongly dependent on the characteristics of the excited surface, such as material, shape and dimensions. So what are some of the best surfaces to mount exciters to?
In the following, some examples of materials are listed that give a good sound output:
Sandwich panels with honeycomb structures (e.g. hexagon-structure)
Thin particle boards (e.g. HDF / MDF)
Plexiglas plates
Glass plates / windows (even heavy duty types like compound windowpanes)
The plate ought to be rigid, and made up of a non-magnetic material.
Larger mounting surfaces tend to create greater amplitude and also wider frequency response in the base area.
As well as taking into consideration what material and size board to used for mounting, it is also important to consider the mounting position of the exciter. A slightly off-centre position gives the best results. However due to the acoustics being strongly dependent on material properties and the shape of the excited surface, it is important to perform listening tests and take measurements to determine the optimal mounting position.
Here are some images and a short video of a Visaton EX 45 S mounted on 2mm thick perspex board, in the second image you can see the slightly off-centre positioning of the exciter.
You can also shop Visaton exciters and adhesive pads today, click the links below to be directed to the products on our website
If you are interested in reading more about Visaton exciter principles, mode of mounting and mounting positions, click the link bellow
http://www.visaton.de/downloads/pdf/visaton_exciter_principles.pdf
Any questions about exciters? Leave them in the comments section and we will be sure to get back to you.