Visaton- The Loudspeaker Specialist
Visaton- The Loudspeaker Specialist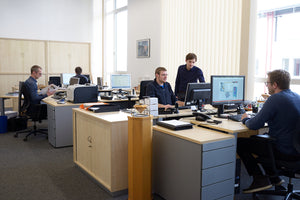 About Visaton 
Impact Audio are the main distributors for Visaton loudspeakers, speaker kits and accessories in the UK. We have been working with Visaton for over 15 years and in that time have seen their range of products grow into possibly the most comprehensive speaker range available anywhere.
This growth has been made possible by a simple philosophy which is to offer a wide range of high quality, well specified products at competitive prices. To back this up Visaton need to have a solid technical competence and a commitment to high quality both in design and manufacturing.
The Visaton technical department is comprised of a team of qualified engineers who specialise in audio electronics and acoustics. Loudspeaker design is a specialised area which merges knowledge of mechanics and electronics as well as acoustics. Visaton's extensive knowledge and high-tech laboratories, equipped with the latest measurement equipment for acoustical research and development, gives them the ability to solve any problem in the field of electro-acoustics in a competent and reliable way.
You will find Visaton loudspeakers being used in a variety of sectors across the globe. They are extensively used in industrial applications e.g communication handsets, medical equipment, info terminals. Visaton speakers are also widely specified in transport installations e.g. buses, trains, lorries, ships. Visaton public address speakers can be seen in hotels, shopping centres, schools, hospitals etc.  
Testing the products
Visaton have invested in state of the art testing equipment in order to maintain quality standards and enable them to offer a three year guarantee on all products.
In their test facility in Dusseldorf, Visaton have installed a 7 x 7 x 7 m anechoic chamber in which accurate measurements of speakers and loudspeaker kits can be made. The walls of the chamber are lined with large slabs of foam which eliminate reflected sound and enable the microphones to pick up only the direct output of the speaker. To stand in the middle of the chamber and listen to silence is quite disconcerting, since the acoustic is quite "dead". Testing in this way enables Visaton to develop speakers with a true flat frequency response.
Anechoic chamber at Visaton testing facility in Dusseldorf
Installing loudspeakers outdoors is very common these days, whether this is on ships (marine applications) or in equipment which is used on the exterior of buildings. Sometimes a high degree of water resistance is needed if the speaker is to be exposed to heavy rain or even mechanical water cleaning devices. Visaton test all their waterproof speakers in order to give them an IP rating. For example IP 65 signifies that the speaker is proof against jetted water as well as dust.
Climate simulator for waterproof testing
Similarly, some speakers may be required to operate in very hot or cold environments and it is important to rate speakers in terms of their operating temperature range. By testing for these limits, Visaton are able to offer suitable speakers for harsh environmental conditions. The FRS 10 WP speaker for example is IP 65 rated and has a temperature range of minus 40 to plus 120 degrees centigrade.
 Climate simulator for temperature testing
Quality Control
Visaton are an ISO 9001 certified company and are committed to offering their customers a consistent high level of product quality and reliability. This is backed up by the 3 year guarantee offered on all products. Good design is the beginning of good product quality but it is critical to ensure that high standards are maintained throughout the production process to ensure that products meet specification at the end.
Sound solutions 
There is a huge range of loudspeakers and accessories in the Visaton range and it may be a straightforward process to select the best product for your requirement. However, please contact us if you wish to discuss a specific project and need any advice.
You can shop the entire Visaton range on our website today. Can't find what you're looking for? Get in touch and we will be happy to help you.